VCS: Video Confocal Super-resolution
The VCS ("Video Confocal Super‐resolution") module is an add‐on for the X-Light V2.
Patented Approach with High‐Speed Processing
CrestOptics VCS enhances the 3‐D resolution of the standard light microscope. It performs a two‐dimensional scan of the sample with a pinhole pattern and applies multiple algorithms to process the the emission, producing the image. The VCS technology is patented.
To speed the extensive calculation required, the VCS module uses CUDA technology from NVidia. The result is very fast processing.
Multiple Modes of Operation
The addition of the VCS module to the X-Light V2 provides a confocal imager with three modes of operation: Widefield Mode, Confocal Mode, and Super-resolution Mode.
Principles of Operation with VCS
VCS ("Video Confocal Super‐resolution") is based on narrow-field illumination using scanning patterns and wide-field collection of raw images.
Detection algorithms already developed are able to super-resolve 3‐D structures in both compact and sparse specimens.
Although other techniques proposed and industrially developed mainly dedicate their efforts in extracting information from a relatively low spatial frequency range, VCM detection methods harness non-linear calculations exploiting the tops more than the belly of the raw signal intensity, collected as a function of illumination and detection positional parameters.
The figure below shows the schematic diagram for a basic VCS microscopy system. In this set‐up, the light source is focused onto a specified pattern that is optically conjugated to the microscope conjugate focal plane through a relay system. The mask is moved in the optical path with an X‐Y piezo motor system at each camera acquisition. The emission is collected widefield, and extensive processing performed to produce the final image.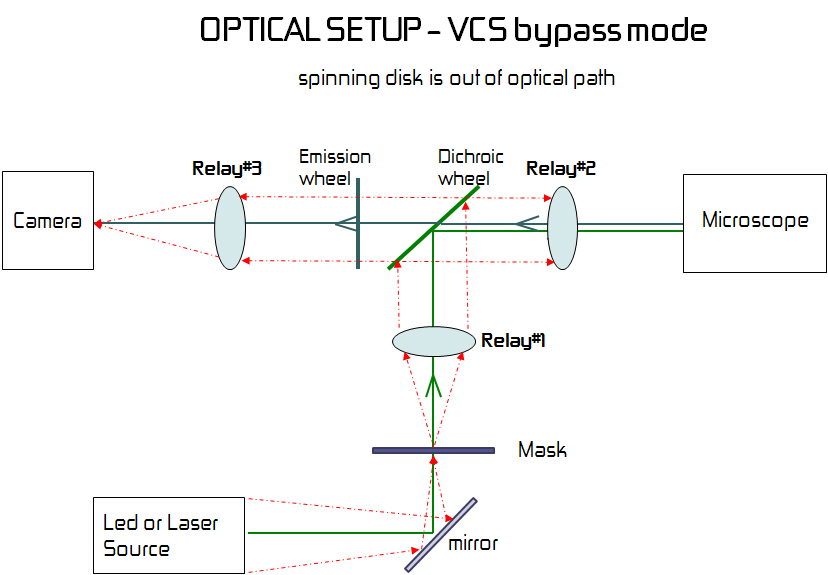 The figure below shows a typical illumination pattern projected onto a sample.